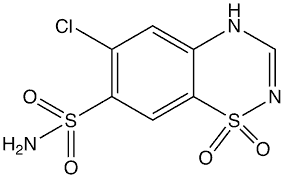 Chlorothiazide is indicated as adjunctive therapy in edema associated with congestive heart failure, hepatic cirrhosis, and corticosteroid and estrogen therapy.
Disclaimer: CTX Lifesciences respects patent laws and conventions of pharmaceuticals as applicable in different countries.
API/Substances covered by patent are not offered to the countries where the patent law is in force. However, the final responsibility lies with the customer.