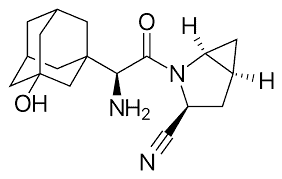 ONGLYZA , KOMBIGLYZE , QTERN
Saxagliptin is used along with diet and exercise to lower blood sugar levels in patients with type 2 diabetes (condition in which blood sugar is too high because the body does not produce or use insulin normally). Saxagliptin is in a class of medications called dipeptidyl peptidase-4 (dpp-4) inhibitors.
Disclaimer: CTX Lifesciences respects patent laws and conventions of pharmaceuticals as applicable in different countries.
API/Substances covered by patent are not offered to the countries where the patent law is in force. However, the final responsibility lies with the customer.