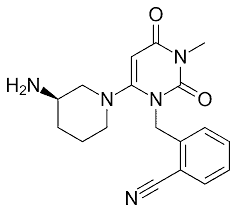 NESINA, VIPIDIA KAZANO, VIPIDOMET (WITH METFORMIN) OSENI, INCRESYNC (WITH PIOGLITAZONE)
Alogliptin is indicated for use as an adjunct to diet and exercise to improve glycemic control in adults with type 2 diabetes mellitus. It can be used as monotherapy or in combination with other antidiabetic medications, including metformin, sulfonylureas, thiazolidinediones, or insulin.
Disclaimer: CTX Lifesciences respects patent laws and conventions of pharmaceuticals as applicable in different countries.
API/Substances covered by patent are not offered to the countries where the patent law is in force. However, the final responsibility lies with the customer.